Podcast: Play in new window | Download
In this week's episode of Armed Lutheran Radio, we're back from the Texas State IDPA match with tips from Sergeant Bill on practicing what you're not good at, Aaron Israel of Fundamental Defense joins me to discuss the importance of seeking professional training, and Pastor John Bennett of St. John's Lutheran Church in Willow Creek, Minnesota is back for Clinging to God and Guns as we take on another bit of bad theology (and logic) from evangelical minister Rev. Rob Schenck.

THIS EPISODE IS BROUGHT TO YOU BY COOK'S HOLSTERS. AMERICAN MADE CUSTOM HOLSTERS WITH A 100% SATISFACTION GUARANTEE. www.CooksHolsters.com
Links of Interest
Republic of Texas IDPA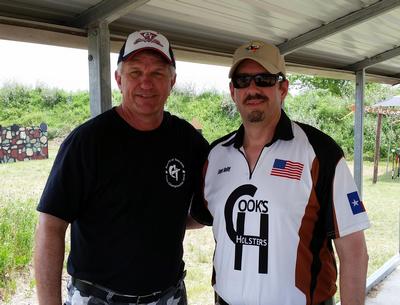 This weekend was the Republic of Texas IDPA Championship in Bellville, Texas west of Houston. It was a tough match with stages that rewarded accuracy over speed. Lots of stages based on Texas history, lots of moving targets. Team Trainwreck did a great job putting on the match and it was a lot of fun. I shot a lot of non-threats, made a few mental mistakes, and finished 8th out of 21 in ESP Marksman. Sgt. Bill finished 37th overall and won 1st Place High Law Enforcement!
One of the safety officers introduced himself as a fan of the show and asked if he could get a picture with me. A big thank you to Jim Schulz (left) and all the staff. Thank you for everything you did to make the day fun for everyone and thank you for supporting the show. Jim is working with some friends at a Lutheran Church in Houston to create a group called LGBT — the Lutheran Gun Brotherhood of Texas!
Ballistic Minute with Sergeant Bill
Bill talks about practicing the things you're not really good at. If all you do is practice what you enjoy, are you really a well-rounded shooter? How about weak-hand shooting, weak-hand transfers, shooting on the move, long range accuracy? How about table starts or box starts, or load-and-stow stages which seem to be all the rage in matches we've been shooting lately? Find out what you don't do well and practice those things.
Aaron Israel of Fundamental Defense
Aaron Israel just finished a two-day Defensive Focus Shooting course at Triple C Tactical range in Cresson, Texas. He joins us today to discuss the importance of getting competent, knowledgeable, professional training. Aaron responds to the comment by Rob Pincus at last year's NRAAM where he said that you should sell a gun and take a class if you have lots of guns but you claim you can't afford training.
Aaron's classes are geared toward everyone from the new shooter to the experienced veteran. They are available in one or two-days and you can register at FundamentalDefense.com, use the promot code LUTHERAN and get 20% off the registration fee.
Clinging to God and Guns
In today's episode of Clinging to God and Guns, Pastor John Bennett and I take on another article by evangelical Reverend Rob Schenck, producer of the anti-gun documentary "Armor of Light." Rev. Schenck believes that evangelical Christians are wrong about guns and gun rights. In his article, "An Evangelical Minister on Why American Evangelicals Are Wrong About Gun Control," Schenck makes numerous false, illogical, and misleading assertions throughout the article. Pastor Bennett and I correct these errors by pointing out that the founders supported the Second Amendment specifically as a result of the Revolution and the need to resist tyranny, that Rev. Schenck clearly doesn't know anything about responsible gun owners, and that Christ's talk of peace in the Sermon on the Mount was actually about an eternal reality, not an Earthly one. After all, in Matthew chapter 10, Christ makes it clear he did not come to bring peace, but a sword.
Prayer of the Week
O God our merciful Father, who taught the hearts of Your faithful people by sending to them the light of Your Holy Spirit, bring us by the same Spirit to have a right judgment in all things and evermore to rejoice in His holy comfort; through Jesus Christ, Your Son, our Lord, who with You and the Holy Spirit lives and reigns, one God, now and forever. Amen.
Our Closing Theme A rockin' rendition of A Mighty Fortress is Our God, performed just for Armed Lutheran Radio by Kenny Gates.