Podcast: Play in new window | Download
The gang's all here for a very special episode 23 of Armed Lutheran Radio as we devote the show to the aftermath of the terror attack at the Pulse night club in Orlando. Aaron Israel joins me to talk about responding to active shooter incidents. Pastor Bennett discusses the proper Christian response to this tragedy. And then, for the And Sgt. Bill joins me, Aaron, and the Pastor for a round-table to discuss the aftermath, the politics, gun control, and things we can do that would actually make a difference.

THIS EPISODE IS BROUGHT TO YOU BY COOK'S HOLSTERS. AMERICAN MADE CUSTOM HOLSTERS WITH A 100% SATISFACTION GUARANTEE. www.CooksHolsters.com
Links of Interest
Introduction
Pastor John Bennett, our co-host for Clinging to God and Guns, suggested that we do something a little different this week. His outline for our segment led to a change in the direction not only for the segment, but for the whole show. We are devoting the show to the terror attack on the Pulse Night Club in Orlando. The result is our longest show to date, interviews with Aaron Israel and Pastor John Bennett, and a first-ever round-table discussion with all three contributors.
Aaron Israel of Fundamental Defense
Aaron Israel teaches the Combat Focus Shooting Program, created by Rob Pincus in which they teach the body's natural reaction to an unexpected attack. There's reaction and recognition. There's always a degree of reaction as your body prepares for fight or flight. Aaron says they talk a lot about the "power of recognition" using the "Warrior Expert Theory" to react more efficiently to an unexpected attack. What can someone do who hasn't taken a class like Aaron's to prepare for these kinds of attacks? Aaron talks about mindset. Accepting that bad things could happen. Even though it's unlikely, it could happen. But then visualizing it happening to you. What would you do if "x" happened? Where are the exits? How can I escape? Resolve to do one of three things: "evade, barricade, respond." Think about ways to evade, to get away if possible. If escape is not possible, is there a way or a place where you could barricade to keep a bad guy from getting to you? And then, if forced to do so, or if an opportunity arises to save lives, having the mentality to fight with whatever means you have.
Clinging to God and Guns
Pastor Bennett explains that the proper Christian response to the shooting in Orlando is to be one of love, compassion, and grief. Christians are called to be pro-life, and that means all life, regardless of the circumstances. So we mourn the loss of life in Orlando. But as Lutherans, as orthodox Christians who believe in the Bible as the inerrant word of God, we recognize that the homosexual lifestyle is a sin and therefore we mourn the eternal loss of those who died in unrepentant sin, apart from Christ. Our response should be the same even if the attack had been on a mosque. We are called to love our neighbor. Love is the fulfillment of the law. We are called to love even our enemies. We should not view the gay community as enemies, even if they treat us as such. And even if they do, it in no way diminishes our obligation to show them love.
Contributors Round Table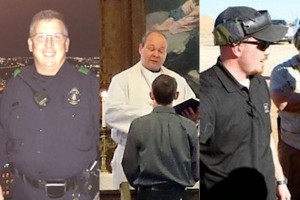 For the first time ever, all three of our contributors — Aaron Israel, Bill Silvia, and Pastor Bennett — join us at the same time for a round-table discussion of the Orlando shooting.
The guys bring their shared love of guns, the Constitution, and our liberties together from three different perspectives: Bill's years on the streets as a police officer, John's years in the pulpit, and Aaron's experience teaching citizens the skills necessary for self-defense.
In this informative, wide-ranging discussion, the guys talk about:
The knee-jerk reaction by the media, and politicians.
The filibuster by Democrats to force a vote on background checks and "no-fly, no buy" legislation (basically jettisoning due process), and the spineless response by Republicans.
How the government is reigning in law enforcement at all levels
The FBI's lack of follow-up on reports of suspicious activity by the Orlando shooter.
The climate of political correctness, what Pastor Bennett calls "Islamophobia-phobia"
Why we have this crippling inability to correctly identify and respond to acts of Islamic terrorism
How a Muslim gunman who pledges his allegiance to ISIS is not representative of all Muslims but he does represent all gun owners.
Various gun control proposals like

"Universal Background Checks"
Closing the "Internet Loophole"
Closing the "Terrorist Loophole,"
Magazine Capacity Bans
Banning "Assault Weapons", and
Confiscation of all civilian-owned guns

What we actually can do that would actually make a difference.
Prayer of the Week
Grant, O Lord, we implore You, that the course of this world may be so peaceably ordered by Your governance, that Your Church may joyfully serve You in all godly quietness; through Jesus Christ, Your Son, our Lord. Amen.
Our Closing Theme A rockin' rendition of A Mighty Fortress is Our God, performed just for Armed Lutheran Radio by Kenny Gates.
Editors note: This episode will be released one week after the events we discuss. To avoid any confusion, be aware that these interviews were conducted in the week following the shooting, so there there are several references to the attack "last Sunday." My apologies for any confusion.