This gun had a crappy reputation in it's original incarnation. First they built a gun with sub-standard materials. There were more than a few examples of the CPX-1 exploding and injuring shooters. The owner of my local range said they had a CPX-1 explode and shred a guy's hand at the range. So why did I buy it?

SCCY also designed a piss-poor manual safety which was too easy to manipulate. Apparently it was not uncommon to have the recoil from the first shot cause your thumb to actuate the safety, thus preventing you from firing a follow-up shot without taking the safety off. By that time, though, unless your first shot was a good one, you're dead. Anyway, the problem was so bad that the company started sending out kits to allow you to remove the safety lever. You don't need one in a double-action-only (DAO) gun anyway…your finger is the safety. But, I digress.
To make things worse, a company exec got caught trolling message boards bragging about his products pretending to be a regular consumer. Not good form. Top it off with the fact that the Vodka brand SKYY forced them to change the company name to the even more rediculous "SCCY" (still pronounced "sky") and you've got a winner, right?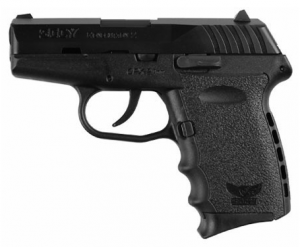 I saw a Second Generation CPX-2 at a local shop and actually fondled it and it felt really good in my hand. So I did some research on the internet and read some good things about the second generation. They apparently dumped the idiot CEO, changed raw materials providers, and changed the design of the gun to merit a handful of promising reviews. Plus it was selling for right around two bills.
The gun breaks down like a Kel-Tec or a Ruger LCP. It has last-round hold-open and a manual slide lock. While the CPX-1 still has a manual safety, the CPX-2 eliminated it altogether. It has a long, heavy, nine pound, double-action trigger pull, eliminating the need for an external safety. The sub-standard steel used in the first generation has been replaced by stainless steel slides and barrels in the second. It is hammer fired, not striker fired, but the hammer is internal, giving it the appearance of a striker-fired gun.
My first range trip was not promising, though. It felt good in the hand, but shooting it was another story. The light weight means the recoil is pretty snappy, and after about 75 rounds the palm of my strong hand was throbbing. Understanding that this is a self-defense gun, not a range gun, I reluctantly dismissed that issue.
The biggest problem, though, was the magazines. The gun ships with two steel, 10-round, double-stack magazines with interchangeable floor-plates with finger extensions. Unfortunately I was never able to get 10 rounds in them. One of them maxed out at eight and the other at five. If you forced more than that, the followers got stuck and the ammo jammed. I took both mags apart and re-assembled them. I even sanded the followers to reduce any drag, which seemed to help, but it never solved the problem entirely.
I called SCCY customer service to ask about the magazines, hoping they would offer replacements. They didn't. The lady on the phone was not very helpful and didn't go out of her way to be friendly. She offered no advice and basically told me to ship them back and they would have a look at them. At my expense.
Despite the initial objections of the instructor, I successfully qualified with it to get my Concealed Handgun Permit, shooting a perfect score with reasonable accuracy. The instructor impressed on me the need to carry a "combat proven" brand so I traded up.
Overall, I'd say the SCCY is proof that you get what you pay for. It has the makings of a decent pistol, and SCCY may yet overcome their rough start, but both the gun and the company still have some maturing to do.
---
UPDATE: Removed incorrect info about the company's founder vis a vis Kel-Tec.
---
Concealability: ****
a very concealable form factor just 1″ thick, 4″ high, and 5.7″ long with snag-free edges.
Accuracy: ***
not intended for long-range shooting, but will get the job done at self-defense range (3-7 yards).
Reliability: **
there were plenty of feed issues, mostly related to crappy magazines.
Ease of Use: ***
disassembles/reassembles like a Kel-Tec or Ruger LCP.
Features: ***
two magazines standard, adjustable sights, "second strike capability" so if the round doesn't ignite, you can pull the trigger try again.
Trigger: ***
a stiff, nine-pound, double action only trigger.
Sights: ***
Fixed, 3-dot style.
Ammo Capacity: ***
10+1
Weight: ***
just 15 ounces.
Firepower: ***
Aesthetics: ***
has a basic Kel-Tec look with nicer lines.
Comfort: **
the textured grip feels good in the hand and supposedly reduces felt recoil, but the light weight makes it a very snappy shooter. Definitely not a range gun.