With ammunition prices on the rise, I began looking for ways to reduce my costs.  I don't reload, and I have no way to start due to lack of space.  If I had a workshop or garage, that would be different.  So, I did something radical.  I call it "caliber consolidation."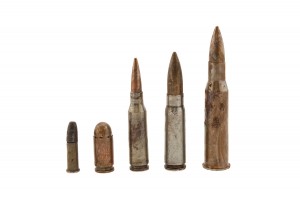 I found that I had guns spanning seven calibers, plus a 12-gauge shotgun.  I could only keep a small amount of ammo on hand for each gun and then had to re-order in smaller, more expensive quantities after one or two range trips.  I have a small house, and no garage or workshop in which to do re-loading.  My storage space is limited to a pair of small fire-proof safes.  Guns in one, ammo in another. I wanted to maximize my storage capacity, stock up on as much as possible, and re-order less often.
If you find yourself in a similar situation, here's how Caliber Consolidation works.
Evaluate Your Collection
The first step is to evaluate your gun collection.  How many guns do you have?  How many calibers do you have within that collection? How many guns are collectible or keepsake guns?  How many rifles, how many rifle calibers?  How many shotguns and how many gauges?  How many handguns in how many calibers?  Don't count any keepsake or collectible guns.  You probably don't shoot them all that often anyway, so count only the guns you use regularly for home defense, concealed carry, competition, target shooting or plinking, hunting or varmint control.  You only want to consolidate the guns and calibers you use most often.
You're thinking, "Wait, did he say guns?"  Yes. The concept of "Caliber Consolidation" is this: pick the most common or least expensive pistol, rifle, and shotgun calibers in your collection and then sell or trade any guns that don't fit those calibers.  This advantage being that all your handguns, rifles, and shotguns will draw from the same pool of ammo when you go to the range, a match, or training.  You can buy and store more ammo in and replenish your stocks less often.
Choose a Common Caliber
Now, for each category (handgun, rifle, shotgun) ask what is the most common caliber and what is the least expensive caliber?  Decide which is more important.  By most common I mean the one you have the most guns to shoot.  If you have four handguns and three are in .45 ACP, that is your most common caliber.  If you have an expensive carry or competition gun in a caliber that is not your most common, you should probably choose that caliber over the most common.
Whatever your criterion, whether it's based on the cost of ammo or the number of guns you have that shoot that caliber, you should try to select a single caliber for each type of gun.  A single handgun caliber, a single rifle caliber, a single shotgun gauge, and .22 LR if you have a .22 in your collection.
Consolidate Your Collection
Categorize your guns based on intended use: concealed carry, competition, home defense, target shooting.  Make sure you keep the guns in your selected caliber that fit each category.  If any of the guns don't match your selected caliber, find an alternative that does.  The idea is that you will trade or sell your guns which don't fit your selected calibers and get guns that do.  For example, if you decide to consolidate to 9mm, but you carry a Glock 30 in .45 ACP, sell the G30 and buy (or trade for) a Glock 26.  Find the correct caliber variant for the gun you use in each category.
For example, let's say you decide that .45 is your most common caliber, but you have a custom 1911 in .38 Super that you use in competition. Obviously you're not going to use .38 Super for home defense, so you can't consolidate to that caliber. You can either sell the race gun and switch to a custom .45 or keep the 1911 for competition and consolidate to .45 for carry and home defense.
If you have a single .223/5.56 AR and a single AK in 7.62×39 or 5.45×39, that will not be as clear cut. It will really come down to which you like best, which one has more use to you (competition, hunting, etc.) and which has cheaper, more readily available ammo.
My Results
Your results may vary but I had to make difficult choices.  I decided to consolidate down to a single pistol caliber (9mm Luger), a single rifle caliber (.223/5.56), my 12-gauge shotgun, and .22 LR.  The last caliber works in several of my rifles and handguns and is still inexpensive.
I decided to consolidate my pistols to 9mm Luger.  Having my carry, defense, and competition guns using the same caliber would yield savings and increase my storage capacity, since all these guns would draw from the same pool of ammo and 9mm is readily available and inexpensive. I then shopped around and traded for 9mm alternatives for home, carry, and for discreet carry situations, replacing my .45 ACP, .40 S&W, .380 ACP, and .32 ACP handguns.
Final Thoughts
There are those who would say you should never trade or sell a gun.  In my opinion, that depends.  Guns are rarely good investments, and the guns I traded would never appreciate in value. They were destined to become "safe queens" with little or no ammo to shoot.  If you have a more expensive or collectible gun in a different caliber, or a gun with sentimental value, keep it.  You probably don't shoot it much, anyway, so a lack of ammo for it will not be a problem. Pack it for long term storage and keep it.
If I had an extra room in my house or a garage or workshop that could accommodate reloading equipment I would keep every gun I buy. If space is not a concern, this idea is not for you. But if you're like me, with a gun collection spanning multiple calibers and limited space in a small house, townhome, condo, or apartment, Caliber Consolidation might just be the trick.