If you are looking for a good quality KYDEX holster at a reasonable price, but don't mind waiting three months to get it, PJ Holster LLC is an excellent choice.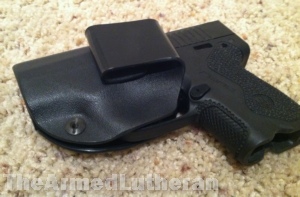 The entire line of holsters from PJ Holster LLC is based on the tried and true clamshell design. Basically it's a single piece of KYDEX folded around your gun like a taco shell and held shut by a screw and a rubber washer which also allows you to adjust the retention.
While the design itself is not inventive, the options PJ Holsters offers are. Options are really what makes PJ Holsters stand out. They offer holsters for pocket, IWB, appendix, and OWB carry, plus a tuckable IWB design. You can choose from over 100 gun models and specify light and/or laser attachments. Different options for cant, belt size, and 13 colors are available.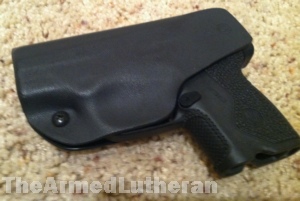 PJ Holsters offers more belt attachment options than any other holster maker that I have found, as of this writing. The one-piece design means you do not have detachable hardware, but they offer a variety of ways to handle your belt. There is the standard over the belt clip which most makers of this type of holster offer, as well as a closed-loop variation which is more secure but harder to get on and off.
Their J-Hook loop is designed to loop over the top of your pants, then under your belt for maximum concealment, with a J-shaped hook at the end which catches against the bottom of your belt. The C-Hook is similar the the J-Hook, except that the loop is molded to create a c-shaped hook which your belt fits into. The newer "Invisible Velcro" design is basically a J-Hook with a velcro strip on the hook which is meant to be matched against a velcro-lined belt, preventing the holster from shifting.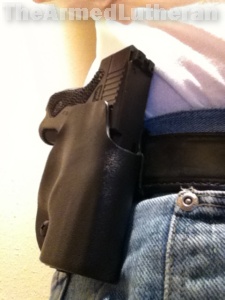 I ordered two PJ Holsters for my Beretta Nano, one IWB with a standard over-the-belt clip and a OWB holster with a closed loop. Fit and finish are excellent, with smooth, polished edges and no sharp corners. Even the bottom of the clam-shell, near the retention screw, has been trimmed off to reduce material and improve concealment. I found that the OWB holster works best with a thicker belt which prevents it from shifting. The IWB works well with both a reinforced belt or a thin dress belt.
The $50 price point makes these holsters an exceptional value as long as you don't need a holster right away. If you came home from the gun show with that new gun you've been wanting and now you want a holster to carry it…prepare for a 12-week wait. Initially I was told seven weeks, but was then told 10 and it crept up to 12. Each time the wait increased I was not informed, either. You will need to send regular inquiries. Unlike some companies, Paul at PJ Holster will respond promptly and inform you of his timeline. You just have to prod him to do so.
---
Concealability: *****
Comfort: *****
Workmanship: *****
Materials: *****
Turnaround: *
12-weeks!!
Options: ****
Value: ****
Starting at $50, PJ Holsters are an excellent value, if you don't mind a long wait.
---