I took my son to the gun show at the Hickory Metro Convention Center over the weekend and thought I would share my observations.
Traffic
The first thing that struck me was how quickly we got in. The last show, back at the end of December, parking was a nightmare and we were lined up, waiting 45 minutes to get in the door. This time parking was just as bad, but to our surprise, we walked right up to the desk, bought the ticket and went right in with no wait.
Once inside, the floor was busy, but moving around was not difficult. December had been asses and elbows, but this show was less oppressive. You could navigate easily and take your time at tables without being jostled or crowded. It picked up as the morning went on, but even after lunch, when we left, traffic was manageable. It was ACC tournament weekend, so some of the turnout might be attributed to that fact. Maybe it picked up on Sunday once NC State and Duke were eliminated.
Ammunition
Ammo is still expensive, but not as scarce as I expected. There was plenty of bulk ammo available, to my surprise, even in the most common calibers like 9mm Luger, but it was pricey.
Handguns
Handguns are plentiful, but in certain brands the offerings are slimmer. I found Glocks, but not as many and fewer models. Prices were not steep, but there were no deals to be found. Brands like Taurus and Rock Island were plentiful and reasonably priced. Others, like Sig, Springfield, Ruger and S&W were available in large numbers. I found the new Walther PPX at one table, at $449, but it was the only new Walther in the building. No PPQs or PPSs were available anywhere.
AR-15 Rifles
One thing I was surprised to see was the number of AR-15s available and the prices being asked. I only saw two or three that were over $2000. Most were in the $1200-1500 range. Last year I found my first AR for $600, with two extra mags and a red-dot. In December, I found the same model at the manufacturer's table with one mag and no scope for $1400. This time, that same rifle was $900. It appears the run on ARs may be over, and prices are starting to come back down.
AK-47 Rifles
I did not see many AK-47 rifles for sale. The ones I did find were used with wood stocks in a variety of finishes. The prices typically ran over $1000.
Magazines
Another surprise was magazines. I found used steel 30-round AR mags for $12. New P-Mags for $25. Surplus pistol mags were plentiful, but new ones were not. I did find one table selling 33-round Glock mags at $60 each.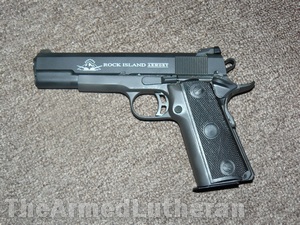 What I Found
I went in looking for a replacement for my carry gun, the now-recalled Caracal C. What I found, instead, was my first 1911. Rock Island's 1911A2-TCM, chambered in the new .22 TCM cartridge and 9mm. This one has been on my short list since I saw Sootch00 review it on Youtube back in December.