There are literally dozens of companies and individuals who make and sell custom KYDEX holsters for firearms and accessories. With the growing interest in concealed carry, I decided to write a series of profiles on the companies who work night and day to fill the growing demand for custom KYDEX gear. In this second installment, we meet Georgia-based Cook's Holsters and founder Bob Cook.

The inspiration for this series comes from my own experience. In 2010 I found myself unemployed and decided to hang my own shingle and start my own business rather than go back to work for someone else. I have always been fascinated and inspired by stories of people whose passion and drive, that uniquely American entrepreneurial spirit, motivated them to take something that they are passionate about and make a career out of it.
Founded by Bob Cook and his wife Marianne, Cook's Holsters is relatively new to the holster market. So, how did he go from fixing cars full time to building holsters?
---
How Cook's Holsters Got Started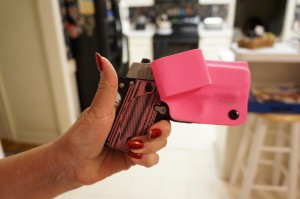 "I am a hands-on person," says Cook. "When I need something my first choice is to make my own." Bob is an ASE Certified master auto technician, and self-described "fixer of all things." When he got his concealed carry permit he became frustrated with trying to find holsters for his favorite guns.
"We started making holsters to be able to carry our own weapons. I trade and purchase a lot of guns and I like to carry all of them. It became increasingly difficult to obtain quality holsters in a timely manner. I got tired of being told 6-8 weeks to get one."
So he decided to build his own. He found out he was good at it and began selling them locally and on eBay in March. Soon people at his local range began asking about his holsters and the range even offered to sell them in their store. By April, he had so many orders he decided to officially found Cook's Holsters.
Product Line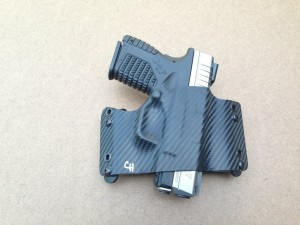 The company has three basic holster designs, one for inside the waistband (shown above), one for outside the waistband (right), and a trigger guard holster based on the Glocktech MIC holster. They recently added a fourth holster which is a tuckable version of their IWB holster. Every holster comes with a lifetime warranty and a 100% satisfaction guarantee.
Turnaround Time
Most KYDEX holster companies turn around orders in a minimum of six weeks. I have only found two companies who beat this average. One of them is Cook's Holsters. Cook's claims a 3-4 DAY production time on their website, and I can attest to that fact. I have ordered a pair of their holsters, one from their eBay store and one direct from the company website. In both cases I had the holster in hand in less than 10 days.
"Customer service is our number one priority," says Cook. And he means it. When I contacted them by email about this feature, Bob Cook called me directly in less than two hours. They treat every customer inquiry that way. They even offer local customers "while you wait" service.
"If we do not have their specific weapon or they have added a one off accessory we allow the customer to come to the shop and bring their gun with them and we will mold the holster off their weapon and complete the holster in about an hour. Many customers choose to wait and watch."
Based on the images on their Facebook page, it looks like Bob's creative genius has been tasked with creating everything his customers can think of with KYDEX: from money clips to holsters for iPhones and MP3 players and more. If you can dream it, it looks like Bob can come up with a solution for it.
Rapid Growth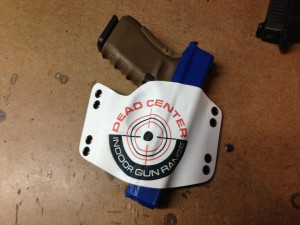 Selling over 400 holsters in just two short months means demand is growing. "We have added every color and texture that KYDEX, Holstex, and Boltaron offer," says Cook, including a new service that allows you to print any digital image on KYDEX before it gets molded. This process is more than just screen printing, which can rub or wear off. The ink is actually imbedded into the KYDEX, making the image a part of the holster itself, not just something printed onto it.
Bob has put his experience with tools and machinery to good use, as well. "I have purpose built many custom tools and fixtures to make the production of our holsters quicker and more consistent."
So, What Sets Cook's Holsters Apart?
"Our product is fairly similar to several other products offered in our industry. The first thing that sets us apart is the refinement and finish of our product. We hand finish and polish every edge and go to great lengths to produce a quality product."
"The second thing is our customer service. My wife and I both come from a customer service background and have very high standards. We treat our customers the way we want to be treated and it shows in the comments we receive almost daily. Our customers are amazed at the level of service they receive from us. We also have purposed to keep our lead time reasonable. No one in our industry is operating on a 3-4 day production time and producing the quality we do."
---
Watch for my reviews of Cook's products in the coming weeks.
If you would like to tell Armed Lutherans about your company and your products, contact us at armedlutheran at gmail.com.