Caswell Ranch Shooting Sports in Prospect Hill, North Carolina hosted the inaugural Caswell Ranch Ballistic Challenge on March 9 and 10.  My 12-year-old son and I both attended and competed in the Civilian Amateur class.  It's been crazy around here and it's taken me a week to get my thoughts together.  Here are our impressions.


The Range
This was my first trip to Caswell Ranch, though I keep thinking I will find a free weekend to attend an IDPA match there. Finding the range is a challenge in itself.  It's not really close to anything. You drive east on I-40 to Burlington then head north on two-lane highways into the hinterlands.  Parking was basically a rolling pasture but it's plentiful and a short walk to/from the club house and the bays.
There are eight bays, but only seven were designated for events.  Bay one was closed when we arrived, about 45 minutes into the match but would open later, really too late to alleviate overcrowding and long wait times.  Glock the Plates was at bay two, then a safe area and some practice plates, then Five to Glock, Glock 'M, and Five to Glock in bays five through seven.
Staff and Volunteers
The staff and volunteers were simply excellent.  Very friendly, accommodating to new shooters, and very helpful.  They went out of their way to offer advice and encouragement to my son who was shooting his first competitive match of any kind.
The Match
In contrast to Morganton's Table Rock Challenge, which enters it's seventh year, there was some confusion and disorganization that one might expect when hosting an event for the first time.  Most of the confusion was caused by shooters who habitually screwed up the sign-in system.  This was done either on purpose or out of sheer ignorance.  Either way, it totally gummed up the system, because the ROs at each stage did a craptastic job of cleaning up the sign-in sheets.
We arrived at 9:45, got signed in, geared up and headed to the range.  We unpacked our folding chairs at bay two (Glock the Plates) and then I went and signed us in at each bay.  If you have never attended a match before, GSSF is unlike other action shooting where shooters are formed into squads and stay together throughout the day.  In GSSF you sign in at each stage and then decide which stage to shoot first.  At that bay you place an "X" beside your name on the roster to indicate you are ready to shoot.  The RO at that stage will call out the names of those who have an "X" and then take the first eight or twelve, assign them a scorecard, cross those names off the sign-in sheet, and then put the scoresheets on a "Christmas tree".  As each shooter completes the stage, his scorecard comes off the tree and the following scorecards move up.   It's first-come, first-served.
If the tree is full, you have to wait for the RO to call more names and when he does he starts at the top of the sign-in sheet and calls out those who have an "X" next to their name, indicating they are at the stage ready to shoot.  This is where the mess starts.  Shooters were signing in at each stage, placing an "X" next to their name, then moving on to another stage.  They would settle in at the stage that was the least busy, leaving their names checked at the other two stages. They would shoot that stage, then move on to another and automatically jump to the top of the line.  If the Range Officers had routinely removed the names of those who were not ready to shoot, the problem would have cleaned itself up.  Since they did not, it became a log-jam.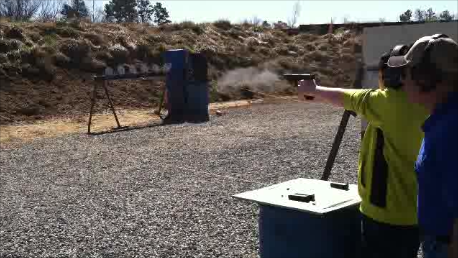 The result was that after shooting Glock the Plates at around 10:30, it took two hours to shoot our next stage, Five to Glock.  They had Five to Glock set up at two different bays, with Glock 'M in between.  Five to Glock at Bay seven ran smoothly, largely because people were unaware it was there.  After a lengthy wait at bay five, the RO announced that there was no waiting at bay seven.  By the time we got there, the sign-in confusion caused another hour wait.  We got to our final stage, Glock 'M, around 1:30 and waited until just before 2:00 pm when they finally opened bay one (another Glock 'M bay) and our names moved onto the tree at bay five as half the remaining competitors left for the new bay.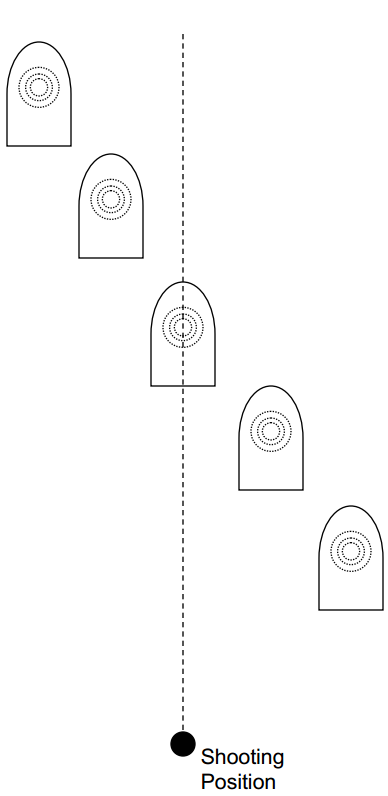 Another thing I found odd was the setup of Five to Glock.  There are several courses to choose from, and Caswell Ranch chose alternate course II (shown at right).  The course was run in this configuration, near to far from right to left, in bay seven and on the right side of bay five.  On the left side of bay five, the targets were reversed, running near to far from left to right.  I am not sure if that's strictly by the book as your approach to shooting the stage would be different depending upon which side of bay five you were assigned.  It's a minor thing, I guess, but it struck me as odd.  I'm not sure how you could fairly compare shooters from different sides of the same bay, shooting what should be the same stage.
My final gripe had to do with shade. There simply was none. In Morganton, last year, shade was sparse as well, but they had canopies set up at each stage. If your scorecard was on the tree, you had somewhere to wait in the shade. At Caswell Ranch, there was no shade, except for a couple of umbrellas at the sign-in tables of a couple of bays and a carport cover at the practice range. So, unless you were practicing shooting plates or sitting at the sign-in table, you were on your own. After suffering in the rain and cold at Charlotte Wildlife Club IDPA the previous week, I was prepared for cold weather, but not for sunshine.  When we arrived it was 36-degrees but by mid-day it warmed up to near 60 and there was no cloud-cover or shade.   Subsequently, I roasted like a lobster.
How We Did
I was shooting my G17 and my left-handed son, the Reagster, had my Gen 4 G34 with the mag release reversed.  At one point this caused confusion because I accidentally mixed in a Gen 3 magazine, which would not seat in his gun.  Once I identified the suspect mag, I pocketed it and made sure my son did not take it to the line with him.
Things started out pretty well for me on Glock the Plates.  I had my two best times (nothing great but good for me) on the first two strings, but then the fourth plate on string three decided he did not want to fall.  I missed him twice, knocked down the last two plates and then emptied my magazine missing plate four three more times.  That got into my head and struggled to knock down all the plates in my final string. The Reagster beat me on Glock the Plates, thanks to my fued with plate four.
| | | | | | |
| --- | --- | --- | --- | --- | --- |
| Finish | Name | Five to Glock | Glock M | Glock the Plates | Match Total |
| 99 / 139 | The Armed Lutheran | 74.85 | 66.18 | 53.72 | 194.75 |
| 105 / 139 | The Reagster | 86.38 | 87.42 | 44.09 | 217.89 |
In the end, we finished middle of the pack. It was hard to get into any kind of groove because we spent so much time waiting. Not making excuses, but by the time we got to our last stage, we were tired and more excited to finally get it over with rather than to shoot.
Hopefully Caswell Ranch hosts this event again next year and learns from the shortcomings this year. With some minor changes, this could be a great event.