Exciting News
We are excited to announce the opening of The Armed Lutheran Shop on CafePress.  You can purchase cool apparel and drinkware sporting the Armed Lutheran logo plus a couple of new designs: The "556 High Caliber" and "I Can Do No Other" apparel collections.
The 556 High Caliber Collection presents messages from the Bible based around the five-five-six numerology: chapter five, verses five and six.  For example: Psalm 5:5-6 or Matthew 5:5-6.
The "I Can Do No Other" collection presents Martin Luther's famous proclamation from the Diet of Worms in 1521.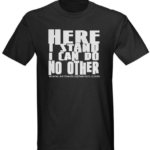 Both collections feature t-shirts, sweatshirts and hoodies for men and women.
The other big news is the introduction of our latest sponsor, "Concealment Solutions" from Orem, Utah.  Jason Christensen makes high quality custom kydex holsters and belts for concealed carry and competition.  I personally have six of their products, including the Black Mamba IWB, Sidewinder, and Pit Viper holsters.  I like them so much, they are the only brand I use.  Please check them out and tell them you heard about their products on The Armed Lutheran.