The first time I saw the DB380 I thought it was a Glock. Glock makes two .380 caliber models, but does not import them into the US for civilian consumption. Why? I don't know. In any case, what I do know is that Diamondback is a Florida-based company founded by former Kel-Tec employees. Unlike SCCY Industries, however, Diamondback decided to imitate Glock rather than Kel-Tec and they have a better product to show for it.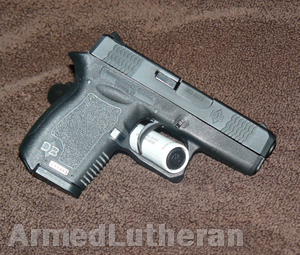 The DB380 is an internal striker-fired pistol with no external safety or slide lock. It holds six plus one in the chamber and, like most other pocket pistols, it does not hold open on the last round. It does not even have a slide lock. I don't know why last-round hold-open is so darned difficult for pocket pistols, but Ruger, Kel-Tec, IO, and Diamondback can't seem to do it.  Or they omit it to save money.  Whatever the reason, clearing malfunctions can be a nightmare without a way to lock the slide open, something I found out all too well.  Also, some range safety officers may not like the fact that you cannot lock the slide back.  If your range requires it, you may want to buy some empty chamber indicator flags before you take this to the range or to your concealed carry class.
There are some very nice ways that the DB380 distinguishes itself from other pocket .380 pistols.  For one, the DB380 breaks down exactly like a Glock. Hold the slide back slightly, depress the take-down levers, then push the slide forward and off the frame. Easy.  Others require you to pop out a retaining pin to remove the slide.
Secondly, the DB380 has a nice set of three dot sights, unlike most other pocket .380s which assume that you'll only be shooting targets so close that you don't need sights.  Sights?  We don' need no steenking sights!  Ask 71-year-old Samuel Williams if he needed sights on his .380 pocket pistol.
Thirdly, It has a nice smooth double action trigger that is actually fun to shoot.  The trigger not plastic, like Kel-Tec and Ruger, and it travels smoothly as you squeeze it.   It does not pinch your finger like the Ruger or Kel-Tec.  It's smooth both in form and function.  The face of the trigger is smooth, with nice rounded edges, which just feels good.  The other triggers don't compare.  I found it to be extremely controllable, as well. I can easily rapid fire five shots and keep them in the black.  Something I could not do with other pocket pistols.
One thing I did have problems with was Russian made, steel jacketed TulAmmo. I had repeated problems with double feeds, failures to eject, failures to fire. I trudged through a bunch of the stuff, though, hoping to at least break the gun in while using up the ammo.  I also got lots of practice clearing malfunctions without a slide lock.  With double feeds and FTE's, the only solution is to place your hand over the slide with your thumb on the back strap.  Pull the slide back to remove the pressure on the chambered case, drop the magazine with your free hand, then cycle the slide to clear the jam.
I never had problems with TulAmmo's .45 or 9mm ammo, but the .380 is awful. And it's so dirty that it fouled up the feed ramp and made my better quality ammo hang up from time to time. Once I switched to better ammo, the problems stopped and I was able to finish entire magazines with no failures.
The gun is incredibly thin, amazingly light, and perfect for those days when a Glock is just too big to carry around, like with shorts or dress clothes.
---
Concealability: *****
An amazing .75″ wide and amazingly light.  Get a good pocket holster and you're set.
Accuracy: ***
For a gun with a 2.75″ barrel, accuracy was more than adequite.
Reliability: ****
My only reliability issues were related to crap ammo.
Ease of Use: ***
+1 star for disassembly/reassembly like a Glock. -1 for the lack of a slide-lock which makes clearing jams a chore.
Features: **
+1 star for the 3-dot sights.  -1 for the lack of a slide lock or hold-open. -1 for shipping with just one magazine.
Trigger: ****
Smooth and crisp.
Sights: *****
Three-dot sights for a pocket gun is excellent.
Ammo Capacity: ***
6+1 is average for a pocket gun.
Weight: *****
Amazingly light at just 8.8 ounces unloaded.
Firepower: *
Aesthetics: ****
While the DB380 clearly draws inspiration from the Glock, the slide serrations and exaggerated beaver tail make the DB380 more aesthetically pleasing.
Comfort: ****
The most comfortable 380 I have fired.  Most pocket guns are not range guns because they are just no fun to shoot. If ammo were cheaper, this one would be.